This CD is a compilation of live tracks taken from VoiceBox concerts at the Boite World Music Café and Box Hill Community Arts Centre in 1998.
The 13 tracks include songs by groups including the Beatles, Beach Boys and Queen, plus music written by Billy Joel and Sting.
Total Playing Time: 37 minutes 38 seconds
Cover Art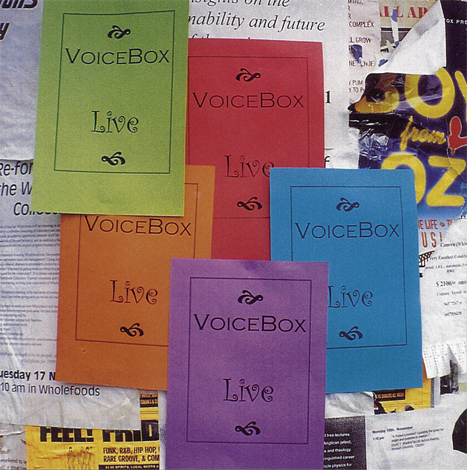 Track Listing
I Get Around

Happy Together

Grandma's Hands  1,836 KB   

Hip to be Square

Time after Time

Secret Part of Me

The Mulligan Musketeers

Pastime with Good Company

If I Ever Fall in Love  3,186 KB

Good Vibrations

Lullaby (Goodnight my Angel)

One Fine Day

Every Little Thing She Does is Magic
- Indicates there is an MP3 file available for listening to.  Right click on the icon and select 'Open' or 'Save Target As...' to listen to it.  For further information, refer to the Recordings page.
Pricing
AU$ 10 per CD - excludes postage
AU$ 7 per CD if purchasing 10 or more in one order - excludes postage
Australia Wide Postal Charges
AU$ 5 postage Australia Wide for the first CD
AU$ 1 postage Australia Wide for each additional CD
World Wide Postal Charges
Make us an offer!  If you are interested, we can get you a quote from our friends at Australia Post