Recorded at Move Records in 2003, this CD contains nineteen of VoiceBox's favourite a cappella tracks from 20th century popular music.
The CD includes works by Queen, The Beach Boys, Billy Joel, The Beatles, Sting, The Nylons, the Blues Brothers, The Whitlams and TISM.
Total playing time: 59 minutes 54 seconds
Cover Art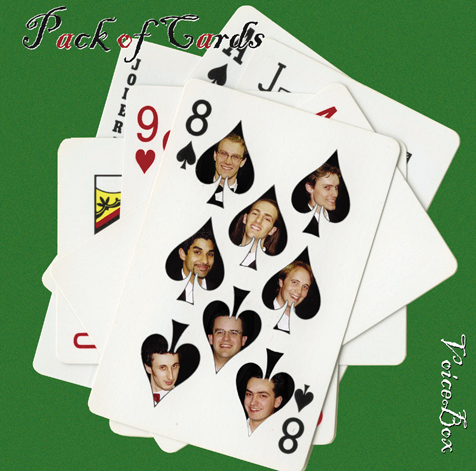 Full Track Listing
Hip to be Square 
Gimme Some Lovin'
Secret Part of Me
Good Vibrations
Flash  

2,200 KB

 
Happy Together
Every Little Thing She Does is Magic  

2,884 KB 

Bohemian Rhapsody
You've Lost That Lovin' Feeling
Sgt Pepper's Lonely Hearts Club Band
With a Little Help From My Friends
Lucy in the Sky With Diamonds  

2,914 KB

 
Lullaby - Good night my angel
Somebody to Love
Buy Now Pay Later - Charlie No. 2
Greg! The Stop Sign!!
Yesterday
Bicycle Race
Since You've Been Gone
- Indicates there is an MP3 file available for listening to.  Right click on the icon and select 'Open' or 'Save Target As...' to listen to it.  For further information on recordings available on this web site, refer to the Recordings page.
Pricing
AU$ 20 per CD - excludes postage
AU$ 15 per CD if purchasing 10 or more in one order - excludes postage
Australia Wide Postal Charges
AU$ 5 postage Australia Wide for the first CD
AU$ 1 postage Australia Wide for each additional CD
World Wide Postal Charges
Make us an offer!  If you are interested, we can get you a quote from our friends at Australia Post